The NAIBA Joe Drabyak Spirit Award
To nominate your favorite handseller, click here. Submission deadline is June 30 each year.

Anna Weber, Handseller of the Year
"Oh, wow! I mean, wow doesn't even begin—I am both dazed and giddy," said Anna Weber, events director at White Whale Bookstore, upon learning she is the 2021 Drabyak Spirit Award winner.
"I am grateful and deeply moved to be this year's Handseller of the Year. I came to this job as many booksellers do: I love books, I've always loved books, and reading has been central to my life since I was very small."
Weber has been a bookseller at White Whale Bookstore for almost three years. The store's motto, Conversation, Community, and Culture, is one she takes seriously, and her interactions with those who seem nervous about being in a bookstore are her favorite. "They have this idea that it's going to be a pretentious, judgmental place. That's part of why people use algorithms instead, right? An algorithm isn't judging you and what you like. I love to show these neighbors of ours that bookstores do the opposite of belittle; they make you feel seen, bring you into a conversation, connect you to a local (and global) community of readers, broaden your horizon and challenge preconceived notions of people, places, and genre."
Jill Yeomans, co-owner of White Whale Bookstore, is very grateful to have Anna on the team. "Anna is the shelf-talker queen. She has so many on the floor that we started running contests with other staff to inspire friendly competition. But even with so many glowing recommendations, Anna makes sure each one is dynamite and geared toward uplifting books and authors that might otherwise be overlooked, and she succeeds at making those our bestsellers. Likewise, her in-store displays and new books stories on our social media accounts always strive to bring attention to indie presses, BIPOC authors, or works in translation, and the sales are often paired with a charitable donation. One of our customers calls Anna "the Alexa of bookselling"- anything you're looking for, you can ask Anna, and she'll find you the perfect read. Our regulars tell us "You'd better hold onto that one," and we couldn't agree more."
Anna received her MFA in creative nonfiction writing at the University of Pittsburgh in 2019, where she developed her current nonfiction manuscript about a small town in western Poland during World War II. For several years she was the translation editor at The Offing. She'll read anything once and many things twice, and she lives to offer recommendations, especially in poetry, fiction, and works in translation in all genres.
"Everyone, even self-proclaimed non-readers, remembers how they felt when they read their first book, or the first book that blew their minds. That feeling of eagerness and delight at the realization of what a book can be or do. The way you gush over the books that mean something to you. I try to bring that to every handselling interaction, no matter how brief," says Anna.
That passion and excitement are what makes Anna a favorite with the customers at White Whale Bookstore. Congratulations, Anna, on this well-deserved award.
---
Previous winners of the NAIBA Joe Drabyak Spirit Award are:
2020: Award was on hiaitus because of Covid.
2019: Jarrod Annis, Greenlight Bookstores, Brooklyn, NY
2018: Allissa duBois, Otto Bookstore, Williamsport, PA
Jean Aiello, University Store (Univ of Pittsburgh) (Lifetime Achievement Award)
2017: Alex Brubaker of Midtown Scholar Bookstore in Harrisburg, PA
2016: Kathy Rodgers of Browseabout Books in Rehoboth Beach, DE
2015: Sean Curran of Doylestown Bookshop in Doylestown, PA
2014: Michael Fortney of Chester County Book Company in West Chester, PA
2013: Alicia Michielli of Talking Leaves... Books in Buffalo, NY
2012: Rob Dougherty of Clinton Book Shop in Clinton, NJ
2011: Ellen Mager of Booktenders Secret Garden Children's Bookstore in Doylestown, PA
---
About Joe Drabyak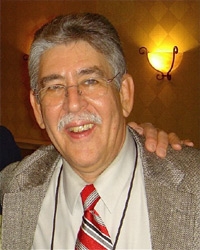 In honor of NAIBA President and friend, the late Joe Drabyak, NAIBA has created the Joe Drabyak Spirit Award to recognize booksellers who put their passion for books into practice with marketing and promotions.
Joe Drabyak was renowned in the industry for his creative promotional efforts. He could build excitement around any title with unusual events (have you heard about Joe's Nuts?), clever pairings, and handselling talent.
For Joe, a good book was a wonder to treasure. His wife, Reggie Painter, remembers: "He would often say to me while I was reading a good book, "Isn't it wonderful to have a good book to read?" Not only did Joe revel in the having a good book to read but got such a thrill out of putting it in the hands of someone else to enjoy as much as he did. He would sit at his lunch table at the store reading up to the very last second of his break. He could advise a customer on which new authors were not to be missed. He relished the advanced reader copies from publisher reps and most of all those precious manuscripts that authors would send him for his opinion. After reading one such manuscript, Black Hawk Down by Mark Bowden, Joe told Mark that it would be nominated for a National Book Award. When it was nominated, Mark invited Joe to attend the National Book Awards Dinner at Atlantic Grove's table with Mark's wife, mother, Buzz Bizzinger, and Morgan Entreken," Reggie said. "It was the only time I would ever see him in a tux."
Joe captured the essence of a book with his witty quotes, which often appeared in a book's promotional campaigns. His skill creating non-author store events captured the unwary customer with enough intrigue to sell the book. He had a loyal following and even those who didn't know him would always pick up a Joe's pick, because they could confidently rely on Joe's solid recommendation alone.
There is a Joe inside many booksellers, and we want that spirit to stay alive and flourish. Nominate the bookseller in your life who shares their passion for books with customers in creative, fun, and unusual ways. Tell us a little bit about them and how they enhance the handselling experience. The winner will be recognized by their NAIBA colleagues at the annual conference, and receive a complimentary packet of all the Fall Conference event tickets, along with a $500 travel stipend.