The NAIBA Joe Drabyak Spirit Award
To nominate your favorite handseller, click here. Submission deadline is mid-February of each year.

Nicole Brinkley, Handseller of the Year
Nicole Brinkley, manager of Oblong Books in Rhinebeck, NY, and lover of dragons, is the 2023 Drabyak Handseller of the Year, bestowed by NAIBA to a bookseller who translates their love of books into handselling, marketing and promotions.
"To be recognized for what is the most joyous part of my job is a real treat."
"What an honor! Connecting books to eager readers was what made me fall in love with bookselling eight years ago and is what keeps me coming back to the store every day. To be recognized for what is the most joyous part of my job is a real treat. I cannot wait to keep connecting books to the readers who love them—and to keep being inspired to do so by my wonderful NAIBA colleagues!" said Brinkley.
Nicole has a large and devoted following within the Oblong Books and Rhinebeck community. "She brings to my attention the multitude of titles available not just in her own bookstore, but even to titles she doesn't carry physically. Where it's not just about the purchase of the book, but about the journey to find out more about myself," said Manuel Uribe, one of her customers. Author and customer Margaret Rogerson said, "Nicole's passion for books shines through in everything she does. She is never without a recommendation or a kind word. As an author, I've been deeply affected by her essays on the publishing community. I often wish that her dedication, insight, and grace were better rewarded. I can think of no one more deserving, and I can't imagine the indie bookselling world without her."
Because she doesn't know how to only do one thing, Nicole is also on ABA's advisory council and the children's advisory council, reviews children's books for BookPage, and writes in various other corners of the internet.
Nicole will receive a full ticket packet and a travel stipend to attend the NAIBA summer conference, New Voices New Rooms. We can't wait to congratulate her in-person.
---
Previous winners of the NAIBA Joe Drabyak Spirit Award are:
2021: Anna Weber, White Whale Bookstore, Pittsburgh, PA
2020 & 2022: Award was on hiaitus because of Covid.
2019: Jarrod Annis, Greenlight Bookstores, Brooklyn, NY
2018: Allissa duBois, Otto Bookstore, Williamsport, PA
Jean Aiello, University Store (Univ of Pittsburgh) (Lifetime Achievement Award)
2017: Alex Brubaker of Midtown Scholar Bookstore in Harrisburg, PA
2016: Kathy Rodgers of Browseabout Books in Rehoboth Beach, DE
2015: Sean Curran of Doylestown Bookshop in Doylestown, PA
2014: Michael Fortney of Chester County Book Company in West Chester, PA
2013: Alicia Michielli of Talking Leaves... Books in Buffalo, NY
2012: Rob Dougherty of Clinton Book Shop in Clinton, NJ
2011: Ellen Mager of Booktenders Secret Garden Children's Bookstore in Doylestown, PA
---
About Joe Drabyak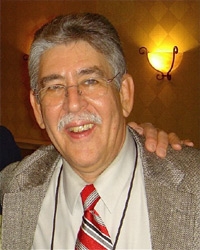 In honor of NAIBA President and friend, the late Joe Drabyak, NAIBA has created the Joe Drabyak Spirit Award to recognize booksellers who put their passion for books into practice with marketing and promotions.
Joe Drabyak was renowned in the industry for his creative promotional efforts. He could build excitement around any title with unusual events (have you heard about Joe's Nuts?), clever pairings, and handselling talent.
For Joe, a good book was a wonder to treasure. His wife, Reggie Painter, remembers: "He would often say to me while I was reading a good book, "Isn't it wonderful to have a good book to read?" Not only did Joe revel in the having a good book to read but got such a thrill out of putting it in the hands of someone else to enjoy as much as he did. He would sit at his lunch table at the store reading up to the very last second of his break. He could advise a customer on which new authors were not to be missed. He relished the advanced reader copies from publisher reps and most of all those precious manuscripts that authors would send him for his opinion. After reading one such manuscript, Black Hawk Down by Mark Bowden, Joe told Mark that it would be nominated for a National Book Award. When it was nominated, Mark invited Joe to attend the National Book Awards Dinner at Atlantic Grove's table with Mark's wife, mother, Buzz Bizzinger, and Morgan Entreken," Reggie said. "It was the only time I would ever see him in a tux."
Joe captured the essence of a book with his witty quotes, which often appeared in a book's promotional campaigns. His skill creating non-author store events captured the unwary customer with enough intrigue to sell the book. He had a loyal following and even those who didn't know him would always pick up a Joe's pick, because they could confidently rely on Joe's solid recommendation alone.
There is a Joe inside many booksellers, and we want that spirit to stay alive and flourish. Nominate the bookseller in your life who shares their passion for books with customers in creative, fun, and unusual ways. Tell us a little bit about them and how they enhance the handselling experience. The winner will be recognized by their NAIBA colleagues at the annual conference, and receive a complimentary packet of all the Fall Conference event tickets, along with a $500 travel stipend.