Keynote at NVNR: When Booksellers Lead
Date posted
August 14, 2023
August 8, 2023 at 9:00 AM at Crystal Gateway Marriott
New Voices New Rooms Hosted Leadership Expert Julia Fabris McBride for Conference Keynote
When Booksellers Lead: The Tough Challenges Get Seen and Solved
Leadership is not about authority and position. Leadership is actually an activity—small actions taken in moments of opportunity. That means everyone can lead. You can lead, no matter your role in your bookstore or place in your community. When more people feel empowered to see, and seize our moments to lead, we make more progress on our most important challenges.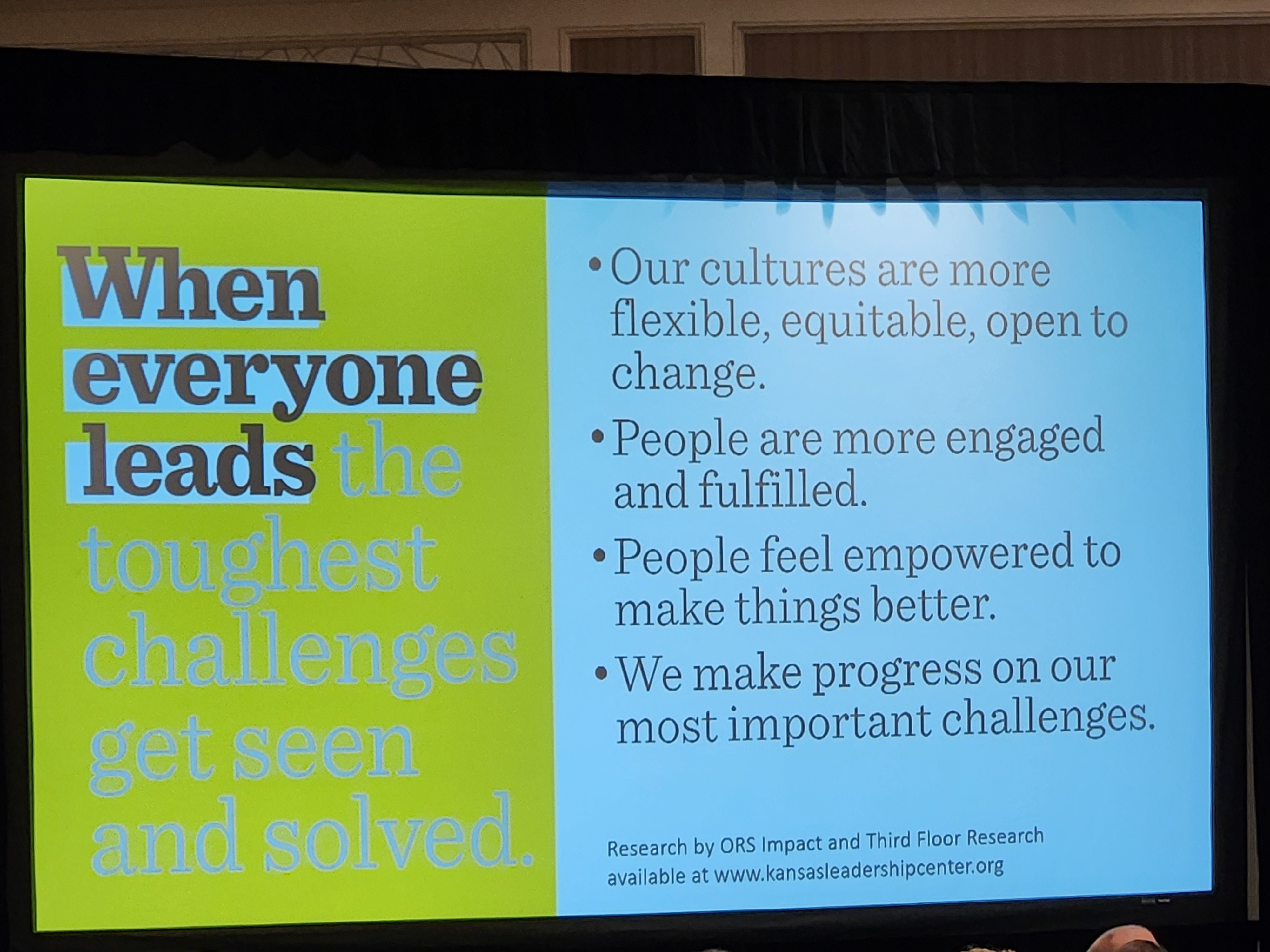 Julia Fabris McBride opened her keynote address to booksellers at the New Voices New Rooms conference with the question "So what do you what kind of culture do you want in your bookstore? What kind of culture do you want to live and work in?"
Answers from the audience came quickly:
"A culture that is sustainable for employees and the business and empathetic to its workers."
"That celebrates what we provide -- expertise, deep knowledge of books, warmth, empathy, innovation, creativity, and inclusivity."
"It's about being open with the people around you. I want to be where everybody is really being honest."
"When I think about culture, I think about connection. Not only to the community, but between management and employees, us and our authors, us and our publishers. To everyone"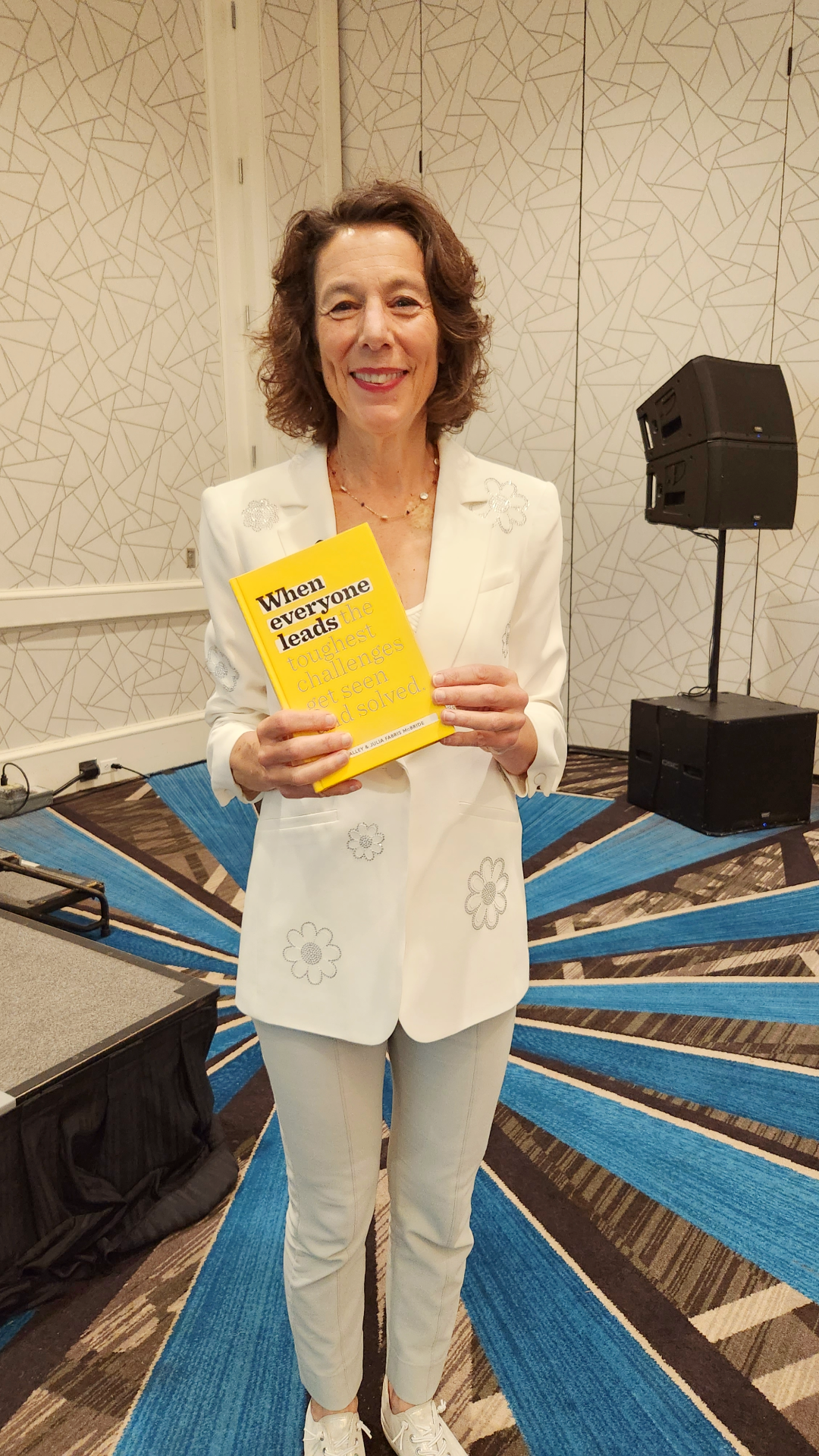 McBride used the responses to discuss our concept of leadership as a verb, an activity, rather than as a position, or a statement of authority.
"We've actually seen the research that the kind of leadership we're talking about this morning. leadership that's an activity not a position actually leads to these kinds of cultures, where people feel more empowered, more able to do their jobs, and more able to make progress. "
Fabris's book, When Everyone Leads, explores the concept of Leadership as a Practice, and its benefits in facing tough challenges, such as reconciling being a space where all are welcome with being a space where everyone feels safe.
Leadership, she noted, is often seen as an individual act, but when you view it as a practice, it is something every individual in the store can exercise. This in turn makes the store more resilient, more adaptable in the face of challenges, more flexibility and able to turn situations into opportunities. And the staff not only feels more engaged and more empowered, but also more aware of their own responsibilities: when leadership is a practice, we are never "not in charge" and there is never a situation where we can say, "that's not my department."
Many thanks to Hannah of Main Point Books for her notes as well:
The keynote speaker, Julia Fabris McBride, author of "When Everyone Leads," stated that progress requires leadership and it is not about authority and power. If we all thought about leadership as a practice, we can all get better at it!
Leadership is a practice, an activity, and means addressing tough challenges. When everyone leads, we make progress on our most important challenges. Leadership starts with dissatisfaction, when we perceive the gap between our concerns and our aspirations. We need people to talk about & address the gap – so we did.
Q: What is our biggest problem that we see in the future?
• banned books would lead to publishers choosing to not publish books that are banned in certain parts of the country
• a bookseller pointed out that "Anti-Racist Baby" was denounced by Governor DeSantis and the book immediately became a bestseller
Q: What is our biggest aspiration?
• to become a thought center fostering curiosity and questions about we've been fed by social media
• to get books to more young people, who cannot afford books
• to level the playing field, so Amazon cannot undercut us on retail prices
What makes it so hard to close the gap? The barriers to progress:
• loss (of job, money, or time)
• a sense of competence
• values clash when we seek to close the gap
• quick fixes never work
• authority is never enough
• leadership is risky

We have to prioritize our values and manage loss - the loss of letting go of how we've been doing things - and learn new ways of doing things. Solutions involve stakeholders communicating, acting experimentally, extending the timeline, and having a curious attitude. Booksellers are caught between pulling back the curtain (of our challenges) and giving our community a happy, safe place to visit. We don't want to disappoint (because we're used to being competent problem-solvers).
Closing the gap starts with You: start authorizing yourself to lead, start your leadership challenge, start where you have influence, start with your part of the mess, and start engaging others. Everyone can lead: ask powerful questions, make multiple interpretations, act experimentally, and make leadership less risky for others by giving time to think, and to build skills. When everyone leads, we shift our perspective from a person-centered to a challenge-centered model. This is not complicated, but it takes courage and conviction and the world needs Booksellers to lead!